Life Insurance policies are a popular way to invest and receive tax benefits. Life insurance also provides financial security for those unexpected ups and downs in life. The life insurance company pools in the premium ofthousands of people and disburse a lump sum if there is a death amongst those who are covered by a policy. The types of life insurance policies vary greatly and you will be better prepared to pick the right one if you read through the various options available to you. You can also manage your money responsibly with many types of life insurance products.
Types of Life Insurance in India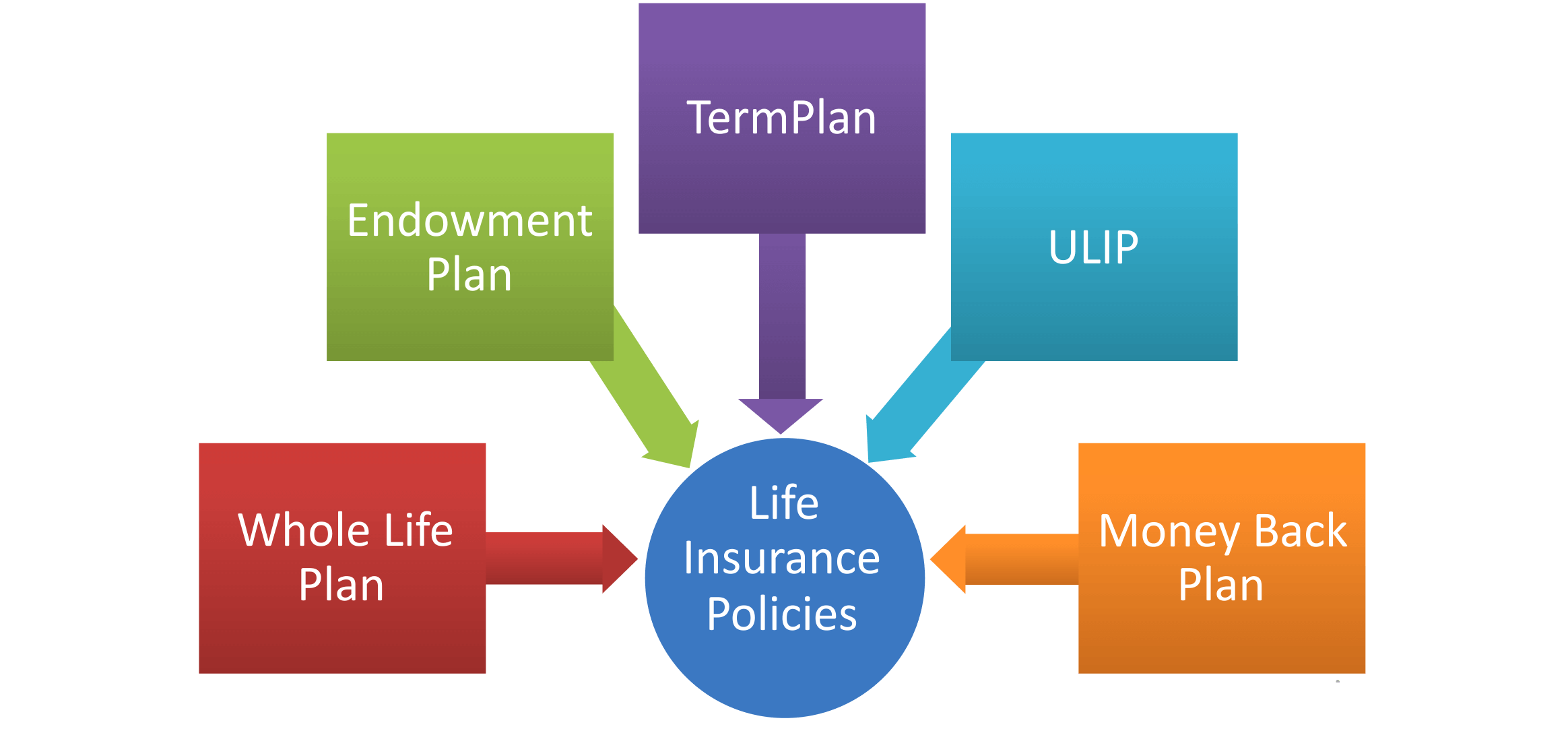 Read on to know more about the types of life insurance policies you can buy and make an informed decision on the one that's right for you and your family.
Term Plan:
Pure Term Insurance is the simplest type of life insurance available. This was the first type of life insurance policy. A person takes out a term insurance policy and pays the premium over a period of time. If he dies during the policy term,the principal amount which is the sum assured under the policy agreed is disbursed to his/her family. Your term life insurance plan should be taken for a sum about 10-12 times of your annual income. It is a good way to provide for the financial future of a family with only a single breadwinner. It provides financial security for your family's future in case anything happens to you, the earning member. You won't get the maturity benefit or a survival benefit in this type of policy. You will also find there are Term Insurance plans with the return of premium (TROP) which return the premium paid at the time of completion of the policy term in case life insured survives the policy term. In case the insured dies during the policy term, the nominee is liable to get the death benefit. Maturity or death, whichever event happens first is payable and the policy terminates thereafter. It has a maturity value or survival benefits and includes a return of your premium. These plans are costlier than the pure term life insurance plans as it offers both death and maturity benefits (whichever occurs earlier is paid as the claim under the TROP).
Endowment Plan:
Here you get a combined option of life insurance and a savings plan. The policy will cover risks in your life for a fixed period of time. You will pay a higher premium for these types of insurance policies. Your nominee gets an agreed upon sum of money and additional bonuses if you don't survive the policy term. You will also get an assured return in the form of survival benefit when you survive the term and also receive additional bonuses as and when the company declares them.
Endowment Plan is a good way to save money. You are guaranteed a certain amount of money at the end of the policy term agreement in these types of insurance products.
ULIP:
The Unit-linked life insurance plan is also sought after. The insured gets life insurance and the benefits of mutual investments. A portion of the money is used to invest in stocks, bonds, and debt funds as chosen by the policyholder. The investment is, of course, subject to market risks as you may be already aware. It is a good plan for you if you are interested in savings and prepared for the ups and downs of the stock exchange. You should not depend only on these types of life insurance policies.
Whole Life Policy:
These types of life insurance policies are beneficial in that your life is covered for as long as you live. Even if you live to be 100 years old, the policy will pay out to your survivors. The premium maybe a limited time one or one which you keep paying for the duration of the policy. Whole life Policy will keep increasing as the company declares bonus and adds to the final amount. You may even be given the option to use the bonus as a premium against a future payment. You can also add riders like accidental death cover and waiver of premium to enhance policy coverage. The returns have been calculated to be about 4-5% of your investment. So you may consider such types of life insurance products as a poor return. But on the other hand, you may get a loan or withdraw the bonus when necessary.
*Source:- https://www.mymoneysage.in/blog/types-of-life-insurance-policies-in-india/
Money Back Policy:
This type of life insurance policy gives you periodic payouts at different stages such as in the fifth year, tenth or fifteenth year. Money Back Policy combine saving with a regular income and a life cover. It calls for a certain amount of planning to make sure the money comes to you at important stages in your life, for example for your child's education or a wedding or when starting a business. The sum assured will be paid out to your nominee if you do not survive to the full term at 105%.
Child Insurance Policy:
To fulfill future financial needs of your child, child insurance plan may be beneficial. It's a saving cum investment plan. Child insurance policy will make your child live his or her dream. As the child is born, you can make an investment to the child's future plan, with the aid of child insurance policy. The policy offers the provision to withdraw saving, at different important milestones in child's life stage which allows withdrawal at different intervals.
The money back child plan is a good way to save for your child's future and it may cover the life of the child also. The premium may be paid at your convenience from yearly to monthly. Bonuses may be included periodically. Such types of life insurance products force you to save for your child's future. Additionally, the insurance plan should have a payout which can take care of your child's financial needs even if you are not around.
Conclusion
Remember that you can buy many types of life insurance products for financial stability during stressful times. You have many options to choose from. You may find that the term plan has the best option for coverage. Be cautious while accepting a policy and know the financial commitments you will need to make and the expected returns. Don't allow agents to falsely promise things that are not on the policy. Choose the life insurance plan as per your financial need, budget and the coverage required. It is important to analyze your financial goals and opt for the requisite life insurance plan accordingly. However, a term plan should be your top priority.