Who am I?
I am Raman, working as a Software Engineer in a multinational company. I am 30 years old and happy in every sphere of life. I do not just have a good job, but also a very loving family. Recently I bought a house for my family, though I took a home loan for that. But it was worth having it. While I was applying for a loan, my friend Jagdish accompanied me. At the age of 30, I have a diversified portfolio. I am satisfied with whatever I am earning and never thought anything beyond this. I have a positive attitude towards life and my future. But my friend Jagdish changed my entire perspective towards the life that evening.
When we became Friends
We became good friends when Jagdish joined my company. Since then we have been sharing a good rapport with each other, and gradually I came to know about the hardships he has faced at such a young age due to an early demise of his father. But that evening when he saw me applying for a home loan, he suggested me to have a term plan. He explained that how having a term life insurance policy will help to have a cushion against life's major risk i.e. death.
I never had any insurance plan except a car insurance policy. Suddenly I was worried about my family's future and realized that my family will have to forgo the house if they are unable to repay the loan in my absence.

Jagdish Bought an Offline Term  Insurance Plan
Jagdish told me that he wanted higher coverage under a minimum premium amount. Therefore, he chose a term insurance plan. Jagdish bought the plan from Mr. Saxena who works as an INSURANCE AGENT

Term plan Details of Jagdish
He referred me to Mr.Saxena for my insurance needs. We decided to visit Mr. Saxena's who works as an insurance agent next day to procure a term plan for me.
Next Day Jagdish introduced me to Mr. Saxena, who worked with the X insurance company as an agent advisor. When I told him that I want to buy a term plan, he straightforwardly said why you are wasting your money to buy an investment plan. I told him that I already had investments, and I want to buy a simple insurance plan. He said our company is offering best investment plan wherein you just have to pay a premium for 3 years and such plans offer guaranteed returns. It is the most bought products in the market as claimed by Mr.Saxena. When I asked about the process of buying, he started insisting on making the premium payment first and told me a confusing long process of getting the insurance. He was unaware of most of the insurance jargon's as well.
I was not feeling comfortable buying an insurance plan which is a long term contract from him as he was biased about his insurance company without having any substantial evidence for his statements. I was also feeling doubtful as he was neglecting my objective of buying a term insurance policy. I somehow asked for a day's time to finalize my decision.
Researched for Buying Insurance Plans Online
Since I prefer to research over the internet for every small matter, I researched about buying a life insurance plan online. There were many online comparison portals that provided information about the insurance plans available in the market offered by multiple insurers. One of them was www.comparepolicy.com, which is an IRDAI approved insurance web aggregator's portal that looked simple and user-friendly in comparison of insurance plans online.
Since I was aware of term plan, Jagdish bought from Mr. Saxena, I was able to differentiate clearly what online term plans offered and what kind of advantages Jagdish missed out when he bought his insurance through an offline mode (Mr. Saxena). Also, the plan was 20% to 30% more expensive than the online term plans.
Discovered the Following Benefits of Buying Life Insurance Online
Ease and Convenience
One can apply for a term plan or any other insurance plan while you are sitting at your home or office. The individual has to fill in the basic details about himself and his requirements on any insurance web aggregator website like his birth details; sum insured required, gender, tenure, etc.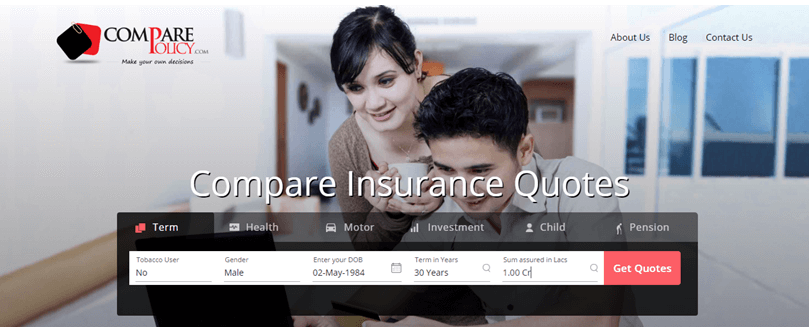 Premium Quotation From Different Insurers
You can select the type of insurance product you want and choose the companies you prefer to buy your term plan from. Term plans of various insurance companies are available at one page with premium quotes, benefits, claim settlement ratio and rider information for you providing a full clarity about the plans.


You do not need to rush here and there to get the form and fill it and then submit it, as in case of an offline term plan. Since the plan is bought online, there is small proposal form which is easy to fill and  make online payment of premium through secured payment gateway.
Easy Comparison
Once the list of term plans suiting your requirements is visible on the screen, you can select the plans which you find compatible to your needs and compare them in terms of benefits, features, riders,premium,exclusions,etc.
In my case, there were three plans that provided the coverage I was looking for. Next to it, I compared them further in terms of their features and benefits, which helped me to zero down on the plan which I am convinced.

Online Insurance Plans are Cost Effective
Online term plans are 20-30% cheaper than offline term plans. It is because there is no agent commission. The insurance company saves on the intermediary cost, policy administration costs, etc. which it transfers to the customer by offering lower premiums on online insurance plans.
Offline term plans, on the other hand, are sold by intermediaries, so their commission is added to the premium.
I noticed that Jagdish was paying Rs 12,875 premium whereas similar coverage is available online at Rs 9,500.
Chances of Negligence get Eliminated
The buyer going for an online insurance plan is providing all the facts in the online form by himself. This reduces the chances of wrong information being given to the insurer which may prove disastrous at the claims stage, and the insurer can reject the claim basis the false information provided in the proposal form.
In the case of an offline term plan, information is given to the agent and most of the times agent only fills the proposal form which constitutes the basis for an insurance company providing insurance to you. If the agent misses out on some information or provided the wrong facts to the insurer, it increases the possibility of getting claims rejected later.
Unbiased and Reliable Information
Information available on the insurance web aggregator's portal is genuine and is unbiased. There is no coercion or forceful decision-making. You choose your own product based on the reliable information about the insurance plans and insurance companies. Moreover, if you face any problem, you may call the insurance experts and can clarify your doubts before buying.

My Prudent Decision
I finally decided that I will buy an online term plan. It was much easier to understand and compare the plans online with reliable data to substantiate the facts in the true light. I finally took term policy of 30 years with a sum insured of Rs 1 Cr at just Rs 9504 per annum and saved my money, time, and energy as compared to buying from an offline mode like Mr. Saxena.
Buying insurance plans online is the safe and efficient way to go. Online buying does not just provide the best deal by offering discounts, but it also saves your time and energy. Due to the correct availability of information, you can choose the best suiting insurance plan without any delay. With less paperwork involved, it is the most convenient way of buying an insurance plan. Before initiating any transaction, your credentials like email id and mobile number are confirmed, which eliminates all the chances of fraud.
If you happen to have any doubts while choosing a suitable plan for you, you also get online assistance in selecting the best plan, at no extra cost.