As per IRDAI annual report, the latest claim settlement ratio of Shriram Life Insurance is 85.30% for the Financial Year 2018-19.
Life Insurer
Claims pending at the start of the period
Claims Intimated
(FY 2018-19)
Total Claims (Claims Pending+Claims Intimated)
Claims Paid
(FY 2018-19)
CSR%
(FY 2018-19)
Shriram Life
62
2768
2830
2414
85.30%
The claim settlement ratio of 85.30% is the indicator of the number of death claims settled by Shriram Life Insurance against the total claims 2830 reported for the FY 2018-19.
Rs 66 crores has been paid as the claim amount against 2414 claims reported in the FY 2018-19 by Shriram Life Insurance Company.
334 claims have been rejected, resulting in Claim Repudiation of 11.80% for the FY 2018-19.
Past 5 years CSR Trends for Shriram Life Insurance Co.
Consistency to maintain a higher claim settlement ratio is considered to be good. Past claims settlement ratio trends will reveal the consistency and inclination of the Shriram Life Insurance Co. towards the settlement of death claims.
Let's go through the past 5 years' CSR trend of Shriram Life Insurance Company.
| Financial Year | Claim Settlement Ratio (%) |
| --- | --- |
| 2014-15 | 65.66% |
| 2015-16 | 60.24% |
| 2016-17 | 63.53% |
| 2017-18 | 80.23% |
| 2018-19 | 85.30% |
Shriram Life Rank in Claim Settlement among other Life Insurers
CSR rank signifies the position where Shriram Life Insurance Company lies, with respect to other life insurers in the industry from the financial year 2014-15 to 2018-19. This rank is based on the claim settlement percentage attained by Shriram Life Insurance Co. in the respective financial years.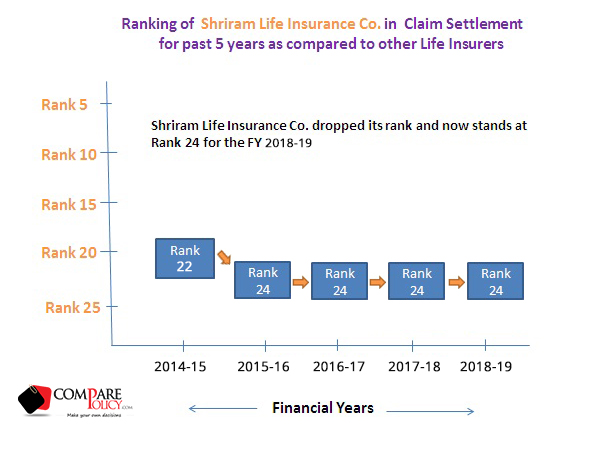 How Claim Settlement Ratio (CSR) is calculated?
The Claim Settlement Ratio is expressed as the number of claims settled divided by the total number of claims reported in a given financial year, including the claims outstanding at the beginning of the financial year. The claim settlement ratio is expressed in percentage which is helpful for comparing the claim settlement data by the customer across insurers. The claim settlement ratio is calculated for every financial year.
Claim Settlement Ratio = Total claims settled / Total claims received
where, Total Claims received = (Claims reported in the financial year + claims pending at the start of the year)