As individuals are becoming more mobile, travel has become a part of academic, business and personal life, exposing people to travel related contingencies. To mitigate the risks associated, it's always a better option to buy a travel insurance plan. Purchasing a travel insurance policy provides cover against medical and non-medical travel-related contingencies such as emergency medical condition, loss of tickets & passport, trip cancellation, curtailment & interruption, loss/delay of baggage, etc. that's the reason of growth Travel Insurance Market in India A travel insurance policy ensures a complete peace of mind, and you can have fun and excitement throughout the trip. It covers the financial loss that may incur while traveling domestically or internationally.
Considering the benefits offered under a travel insurance policy, people are looking forward to getting their trip insured, before leaving for vacation.
Analysis of the Travel Insurance Market in India
Travel insurance aims at providing hassle-free travel to the tourists, and these policies provide assurance that the risks are reduced to the minimum.
Growth in tourism is the key factor that propels the travel insurance market. As per UNWTO records, arrivals of international tourists witnessed the growth rate of 3.9% to reach a total of 1,235 million in the year 2016. Around 46 million more tourists (overnight visitors) traveled internationally in 2016 compared to the year 2015. As per UNWTO's Panel of Experts and economic prospects, international visitors worldwide is expected to grow at a rate of 4% in 2017.
According to research by Finaccord, the global market for travel insurance and assistance was stood at around the US $ 13.8 billion in 2013, and this figure is expected to touch the US $18.1 billion by 2017.
When it comes to Indian perspective, the size of the travel insurance market in India is more than US $70 Million in 2016. This market in India is even at an emerging state, and it constitutes less than 1% of the total travel insurance industry worldwide. The travel insurance market in India is expected to rise with a healthy growth rate of 10-15% annually.
Perspective towards Travel Insurance
According to research by Thomas Cook India, most of the travelers seek overseas travel insurance in India when traveling to a foreign land, which implies that there is an enormous potential for travel insurance in India. Not just international travelers, but there has been an exceptional rise in the domestic travel industry as well. As per recent estimates, 30 million Indians indulge in domestic travel every year, and they also seek for domestic travel insurance in India.
Earlier, less than 20% international travelers from India bought travel insurance, but recently, there has been a significant transformation in people's attitude for buying travel insurance. In the year 2015, the travel insurance market in India has witnessed a double digit growth in both the international and domestic travel insurance.
Comparative Analysis of Travel Insurance Market
In this blog, we are discussing about the scenario of travel insurance policies being offered by the various insurance companies.
Overseas Travel Insurance
During the year 2015-16, overall 22.39 lakh policies have been issued towards covering 39.29 lakh persons, however,in year 2014-15, 22.62 lakh overseas travel insurance policies have been issued from non-life insurance sector in India.
For FY 2014-15, the Gross Premium income from Overseas Travel Insurance business was Rs 465 crores, however,during the year 2015-16, it stood at Rs 536 crores registered a growth rate of 15.26% compared to the previous year. During the year 2011-12, Gross Premium income was stood at Rs 342 crores, so in the time span of 4 years during FY 2015-16, the premium income registered a growth rate of 56.72%.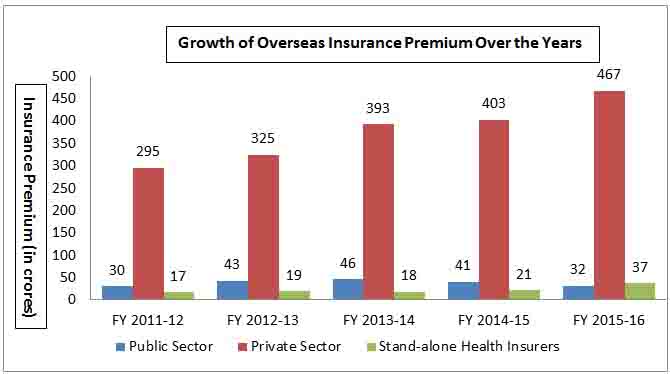 In FY 2015-16, Private general insurers hold 87% of market share in gross premium. Public sector general insurers and stand-alone health insurers hold 6% and 7% of market share respectively in total gross premium. The Incurred Claims Ratio for Overseas Travel Insurance was 54.1% for the FY 2015-16.
Domestic Travel Insurance
Under Domestic Travel Insurance Business, the total gross premium received was Rs 21.80 crores for FY 2015-16, registered a growth of 35.77% when compared to FY 2014-15. Domestic Travel Insurance policies have been issued by private general insurers and public sector insurer. ICICI Lombard holds the majority market share of 64% and Tata AIG holds 32% of market share.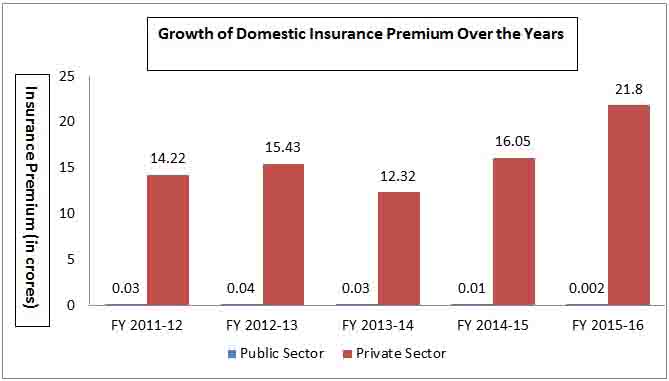 During the year 2015-16, the non-life insurance industry has issued 21.08 lakh policies providing cover for 22.57 lakh individuals. The Incurred Claims Ratio for Domestic Travel Insurance was 2.14% for the FY 2015-16.
(Note: Facts & Figures mentioned above are, as per IRDAI annual report for FY 2014-15 & 2015-16)
Expansion of Inclusions under Travel Insurance
Considering the local problems and mishaps that may occur during the travel, Insurance Companies have started offering 24×7 worldwide medical assistance, emergency evacuation, protection against natural calamities and terrorist activities, emergency evacuation, and travel inconvenience benefits that are designed to keep a guard to their customers from unforeseen emergencies.
Not only this, but one can also take advantage of covers such as political risk and catastrophe evacuation, emergency hotel extension, loss of baggage & personal effects, compassionate visit, the return of minor children and other value-added services. Some of the recent additions to the company's products include medical concierge services, automotive assistance, lifestyle services for dependents at home.
Prospects of Travel Insurance in India
As far as current scenario is concerned, the penetration of travel insurance in the country is 3.9% which is quite small, but considering the growing segment of travelers, there is tremendous opportunity knocking the doors of insurance companies and travel agencies to tap the growth. With the increasing level of awareness regarding the significance of travel insurance amongst people, India has excellent prospects to become one of the major travel insurance markets worldwide through the next decade.
As per estimates from UNWTO, at present, 20 million Indians travel abroad every year, and within three years by 2020, this figure will multiply more than double to 50 million travelers. This upward surge of outbound tourists ensures to make the travel insurance industry buoyant.
With the growing tourism industry in the country, there is a tough task ahead for the travel insurance industry to ensure the safety of its travelers in any way possible. The success of this industry, primarily depends on awareness levels of customers for travel insurance, so a combined effort from all companies can accomplish the task towards increasing the travel insurance penetration among travelers.
Now, with online buying of insurance policies, getting protection against travel-related contingencies are just a click away. Online platforms have made the things feasible concerning the way people understand the travel insurance and its significance.
Final Word
The travel industry in India has become one of the key drivers of economic growth. The travel insurance market in India is gaining momentum each year as insurance companies are now offering customized travel insurance plans, considering the convenience of the travelers. A travel insurance plan provides cover against unforeseen travel contingencies such as any adverse medical condition, loss/delay of baggage, loss of tickets & passport, etc.
When looking to buy a domestic or overseas travel insurance, it is advisable to look for an insurance company who can provide you with a travel insurance policy that accommodates all your travel insurance needs.