Few Years Back Myself Aryan! I had fond memories of childhood with my best friend Rahul and always cherished some good times spent at school and college days with him. As the saying goes "Opposites Attract", we both are just opposites to one another in many ways but still are best of friends. Rahul is a carefree person who likes delaying things, not meeting deadlines and postponing important decisions. I can still remember (laughing out loud) Rahul used to delay his homework as well in the school for which you can always find him standing out of the class most of the times. But thankfully, in college Rahul had the privilege to sit in the canteen at least, even if he has not submitted his assignments timely.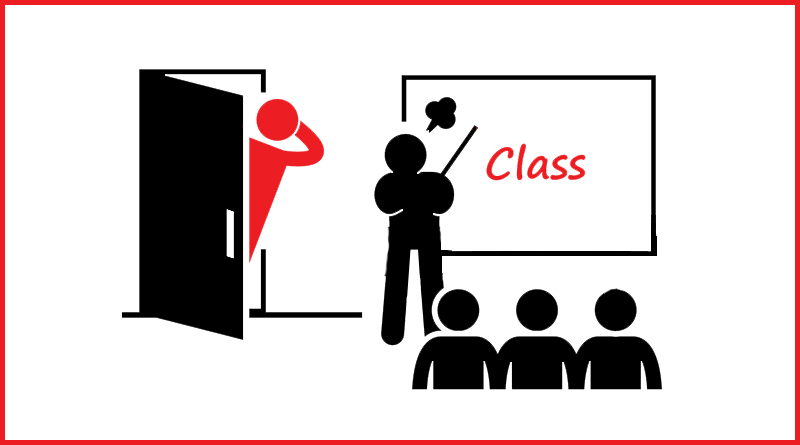 Few Months Back
Life was and is good for both of us. Our lives were heading at the same pace we graduated together, started our career together, married in the same year. I am working as a Project Manager with an IT Company and Rahul, the PROCRASTINATOR (as I call him) is working as a Manager with FMCG Company doing well in his job. Both of us were happily married and still takes life as cheerful as we used to take it in our old school days.
Table A:-

Family Specifications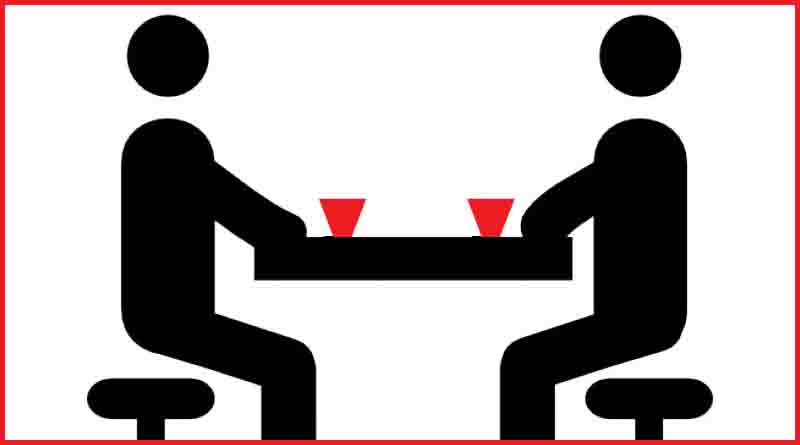 Current Financial Standing
Rahul and I still hold that friendship bond and discuss our financial landscape with one another often and exchange financial advice, worries and gains as well.
TABLE B:-

 Financial Landscape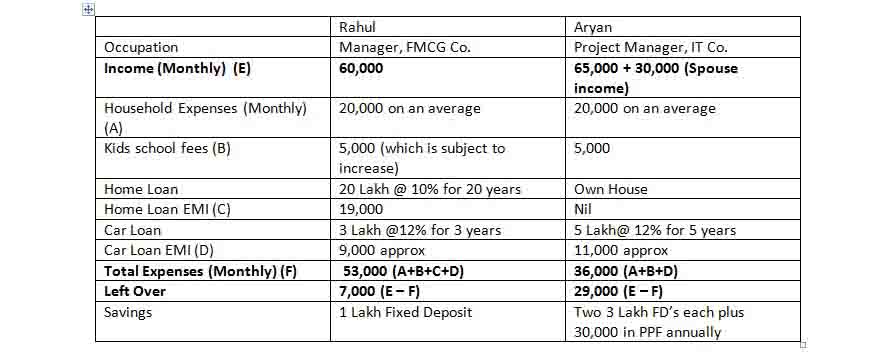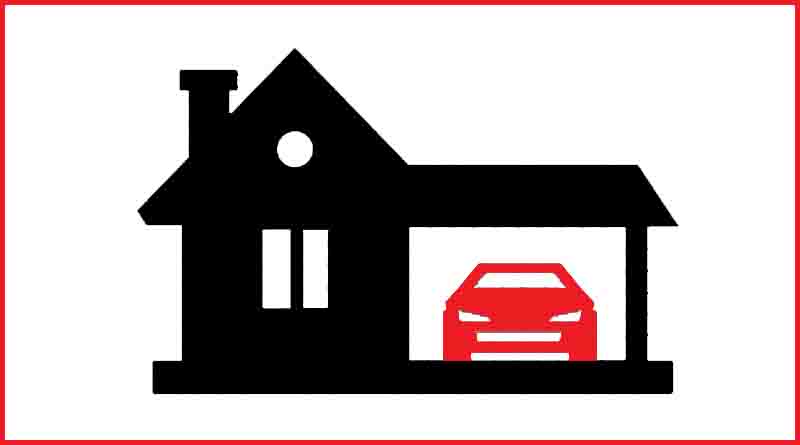 One Day
We had a school reunion and one of our friends Sidhardh, who is now working as a financial consultant was also part of the reunion meeting. First round of conversation began with old school days to discussing mischiefs done on school trips, in class and conversation revolved over remembering and making fun of Mr. Jose (our English teacher). Second round of conversation was more serious and revolved around latest news, political judgements, insurance and financial planning.Third round of conversation was more insurance specific and Sidharth talked about the multiple life insurance plans taken by him to ensure financial security of his family and we both were gazing at him as if he was speaking french.
Sidharth was amazed to know that both of us (Rahul and myself) did not have any Life Insurance Policy. Rahul jokingly told Sidharth that we are just 30 years of age and we are not going to die soon. So we don't need a life insurance at this stage buddy. Moreover, we will take it when we will grow older just like Mr.Jose (their English teacher) and started giggling.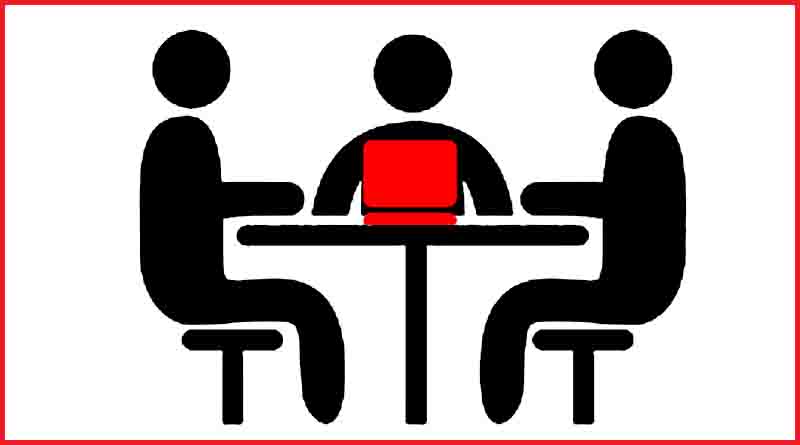 Sidharth got serious and discouraged Rahul's opinion and as our well wisher and friend suggested both of us the NEED and BENEFITS of LIFE INSURANCE.
NEED OF LIFE INSURANCE
To secure your loves ones financially

in your absence

To make arrangements for your family to lead the same lifestyle

in your absence

To ensure that the education of your kid is not hampered

in your absence

To ensure that you leave adequate funds to take care of your kids marriage expenses

in your absence

To ensure your Debts/loans are taken care of

in your absence

To ensure you mental piece of mind that your family is protected financially

in your absence

To ensure that in the event of disability or illness your family is compensated financially through additional coverage in your policy
To ensure you have an adequate corpus to survive your post retirement life
Benefits of Life Insurance
Your family is financially compensated in the event of your death by a lumpsum amount taken as life cover
Your family can get lumpsum and guaranteed monthly income to take care of household and other regular expenses
You get Tax benefits as per the prevailing income tax laws under section 80C and 10(10D)
You can avail Loan out of your Life insurance policy
Life insurance policy can serve as a collateral in case of loans
You may take add on coverage known as Riders which offer Accidental death benefit, waiver of premium benefit, Disability benefit, critical illness coverage benefit, etc. at a nominal cost to enhance protection
If you outlive the tenure of the policy, you are entitled to the maturity benefits (except for Term Plan without return of premium) which is your basic life cover plus additional guaranteed amount from your insurer.
Last but not the least if you buy at the early age, you have to pay lower premiums for the entire tenure.
Rahul without delaying his sense of humor, stopped Sidharth and asked him to take a chill pill saying don't worry buddy, I have a long age, nothing will happen to me. But I understood the IMPORTANCE OF LIFE INSURANCE and thanked Sidharth for the eye opener session. Sidharth emphasized again to take a pure protection plan which is a Term Insurance Plan for our family that comes at a lower premium and offers huge life cover due to zero element of saving in it and is very cost effective. Moreover, he suggested us to compare insurance plans online and buy the best one as per our financial needs.
Reality Check
I made Rahul understand the financial implications (with reference to TABLE B *) to our families in case something happens to us. I suggested Rahul that your family's monthly expenses are 53,000 INR and monthly income is 60,000 INR. If god forbid! Something happens to you or me then the monthly income which is 60,000 in your case Rahul and 65,000 in my case will stop from that very moment. Being in private jobs, we don't have the provision of getting pension as well.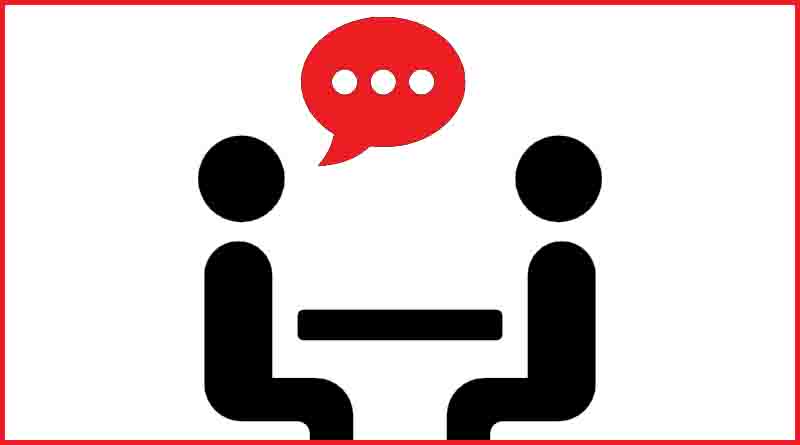 How will our family be able to bear the enormous monthly expenses? On the top of it, we both have loans specially Rahul , you have a Home Loan and Car loan both.Also the rate of inflation will increase the expenses to higher limits in future. Thinking about such scenario only gives me goosebumps. But Rahul continuing his carefree attitude and being a procrastinator delayed the very thought of buying a Life Insurance Policy of any kind and joked on me about being so much influenced by Sidharth and nothing is going to happen to us, we both will retire together.
Prudent Decision by Aryan
My mind was full of apprehensions and I was cursing myself for my delayed decision. But it is never too late. On reaching home and without wasting an iota of time I sat on the laptop and started researching for a term insurance plan. I did comparative analysis and comparison of all Term Insurance plans in India offered by multiple insurer's by logging on to www.ComparePolicy.com to get an unbiased details on Term insurance plans. I found out that all the benefits, key features, inclusions and exclusions of multiple plans are evident on one screen which helped me comparing the plans and decide on the  final one.
Post comparing, I decided to take a term insurance plan to begin with, which is cost effective, within my budget and which offered me assured lumpsum benefit and guaranteed monthly income benefit.
I finalized on one of the online Term Plan with Sum Assured of 1 crore and guaranteed  monthly income of Rs 40000 and took the plan online at just a few clicks from the comforts of my house which saved me more money on premium by buying online. I made the premium payment online which came out to be 9,500 INR annually. I was still upset with Rahul's decision of delaying the thought of buying insurance. I called him up and told him that I have got the policy online and urged him to buy one for himself as well. But he showed me his carefree attitude again and did not agree.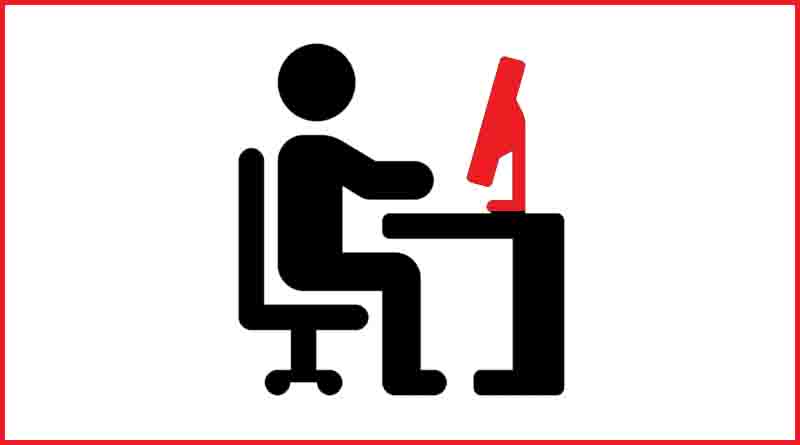 The Unfortunate Day
Few days later, Aryan was accompanying Rahul in his car to attend their common school friend's wedding. But suddenly, a big and heavy goods carrying truck hit their car and they both met with an accident. The impact was so gigantic that they both died on the spot, leaving only memories behind.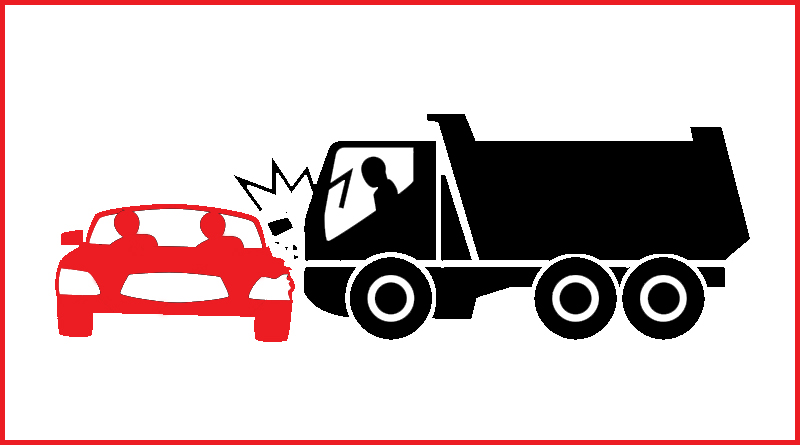 Life Insurance came as the Biggest Saviour
Life took a 360 degree turn both the families of Rahul and Aryan, but Aryan's prudent decision saved his family from the financial calamity (of course emotional loss is hard to compensate). His wife filed a claim with the insurer being the nominee and the claim was accepted on genuine grounds.

Which is a huge financial support and arrangement Aryan had made by taking the prudent decision of buying a Term Insurance Policy.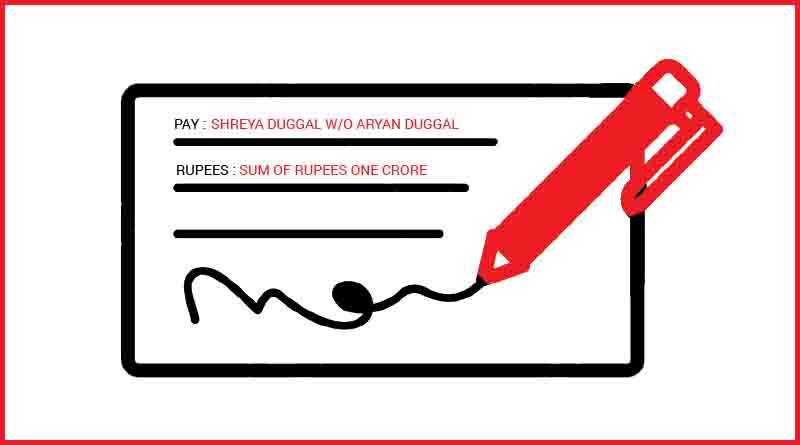 With this financial indemnification from the Life Insurance Policy Aryan's family will be able to:
Pay off all debts,
Will be financially independent,
Kid's education and higher education can be taken care of,
Aryan's old parents can be taken care of,
His wife may start up a business with the amount in her hand,
Monthly expenses are taken care of.
Rahul's family is in complete shock as they lost Rahul and also huge debts, old parents, kids education, monthly expenses all were haunting Rahul's family as monsters. Relatives also showed them back (which is the hard reality in today's world). Had Rahul acted prudently and bought a term insurance plan without delay situation for Rahul's family would have all been different.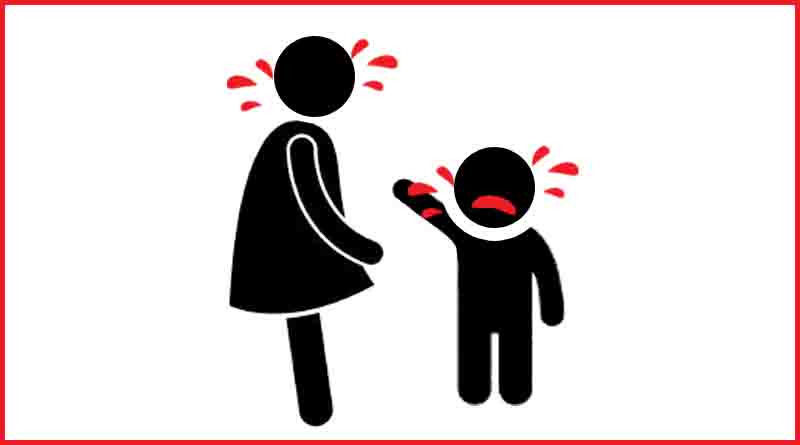 Conclusion: Entire story of Aryan and Rahul can be concluded as " It is better to be Safe than Sorry! Life is unpredictable for all of us and it is very important to make an adequate arrangements for our loved ones. Life Insurance will act as your prudent financial decision in rainy days for your family in your absence. Think of life insurance and buy it at the earliest for your loved ones without delaying. Life Insurance is a Necessity not an Expense!