Led a gathering of over 50,000 yoga enthusiasts at the 3rd International Yoga Day at Lucknow, the Prime Minister Shri Narendra Modi said about the immense popularity not only in India but all across the world. With Yoga can Reduce your Insurance Cost and you can achieve key benefits such as all-round fitness, weight loss, stress relief, inner peace, improved immunity, living with greater awareness, etc.
International Day of Yoga has been celebrated annually on 21st June since its inception in the year 2015. An international day for yoga was declared by the United Nations General Assembly on 11th December 2014. The word 'Yoga' is derived from the Sanskrit word 'Yuj', which means 'to join' or 'to unite'. The origins of yoga can be traced back to pre-Vedic Indian traditions, as mentioned in the Rigveda, however, it is developed around 5th & 6th centuries BCE. Yoga is a physical, mental, and spiritual practice, which emphasizes on bringing harmony between the body, mind and spirit.
By practicing yoga, you can achieve overall body fitness which further helps you to reduce the insurance cost at the time of its buying. Wondering How?
Let us understand how YOGA helps you to lower your Insurance Cost or Premium: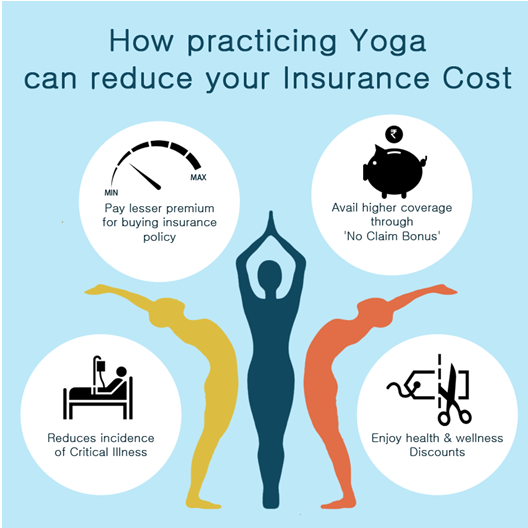 If you are fit, you pay lesser premium for Health and Life insurance:
Regular yoga ensures you the all-round fitness and by being healthy & fit, you pay lower premiums as compared to a physically unfit or unhealthy person of your age. Insurers consider health as a major factor while computing the premium for your policy and in case, you are following the healthy habits, you can get the policy at a lower premium in comparison to the one who is not healthy. Being, healthy you fall in the category of "Healthy Lives" which is a low risk category for insurance companies. A healthy life is far less susceptible to making a claim under its policy as compared to an unhealthy life.
Insurer companies do charge premium over and above the usual premium for insuring a life which has higher risk involved known as Loading. Also, at times the high risky lives are denied insurance too.
Also, if you are a non smoker then the insurance companies offer you different premium slabs and charges lesser premium than a smoker.
So by staying fit, you can have a peace of mind plus save your money for buying the policy.
If you are fit – Avail higher coverage through No Claim Bonus:
Practicing yoga increases your immunity and improves your over all health development. Staying fit reduces your spending towards your health care expenses. If you possess a  health insurance, you won't claim often under your health insurance policy. By not claiming during a policy year, your health insurer rewards you with a No Claim Bonus (NCB).
NCB helps you provide an increase in the health cover (sum insured) without paying the additional premium. Most of the insurance companies offer NCB in a range of  10% of the sum insured up to the maximum of 50% to 100% of the Sum Insured, in case of no-claim policy year.
So, staying healthy not only keeps you away from illnesses, but it also ensures an increased health cover under your policy at the same premium cost.
If you are fit- Enjoy Wellness Discounts under Health Insurance Plans:
By staying fit and healthy, you can enjoy several wellness discount offered by the Insurers. Several health insurers have started offering discount on premiums (subject to policy terms), in case you meet the predefined criteria of fitness and wellness.
The key reason for offering such discounts is that there are lesser chances for a healthy people to go for medical treatment and thus, would register claims less frequently which in turn saves the insurance company's cost. This cost-saving benefit is passed on to the customers via health & wellness discounts.
Like, Aditya Birla Health Insurance launched 'Health Returns', which helps a policyholder to earn reward points when going for a 30-minute workout at an empaneled gym or walking 10,000 steps in a day. With 'Stay Active' programme. HDFC ERGO General Health Insurance also provides discounts of up to 8% on renewal premium, when walk 10,000 steps every day. ICICI Lombard under 'Do The Difficult' programme provides reward points to the policyholders, while participating in activities such as marathons, swimathon, cyclothon, etc.
If you are fit – Lower incidence of contracting a critical illness:
The present day hectic lifestyle, physical inactivity and deteriorating environment are considered as the major cause for critical illnesses. The diagnosis of critical illness is quite expensive and most of the times, it becomes unaffordable to your pocket to treat the disease due to skyrocketing medical inflation.
The average cost of treatment for treating a critical illness like cancer, heart attack, kidney failure is around Rs 5 Lacs to 20 Lacs over a period of time.
Staying fit and healthy through practicing the inexpensive health art YOGA can Reduce your Insurance Cost and reduces your chances of attaining any critical illness and thus, can also save the huge cost that would have been incurred on its treatment.
Conclusion
A passionate yoga practitioner can get an all-round fitness of the body, mind and spirit. By staying fit & healthy, you can keep yourself away from illnesses, plus get the insurance cover at a reduced cost.
Make yoga as a way of Life and have a healthier today and tomorrow!